Lincoln University of Missouri Agreement Signing Ceremony Formalizes Transfer Path for College of Lake County Students
Contact
Office of Communications and Marketing
Young Hall
820 Chestnut Street
Jefferson City, MO 65101

Archives
Categories
Social Media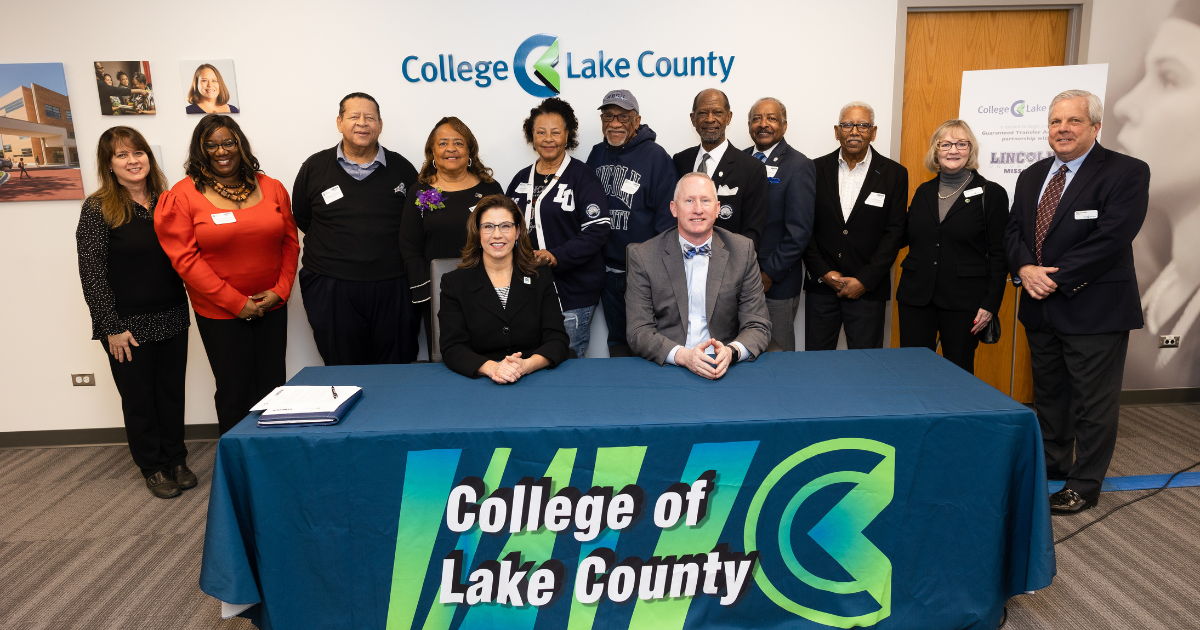 Students at College of Lake County (CLC) in Illinois seeking bachelor's degrees through Lincoln University of Missouri (LU) will soon have a formalized transfer path, thanks to a new agreement between the two institutions, which LU President Dr. John B. Moseley and CLC President Dr. Lori Suddick made official at a signing ceremony on Monday, Jan. 30. LU-CLC's Guaranteed Admission Program will make the CLC students' transition process from their associate degree to the completion of their undergraduate baccalaureate degrees at LU both seamless and successful. 
"Through the Guaranteed Admission Program, we are creating another way to help facilitate and support the path to a college degree for students, fulfilling our mission and helping to change lives," said LU President John B. Moseley, Ed.D. "We look forward to helping CLC associate degree graduates achieve their dreams of bachelor's degrees at Lincoln and, ultimately, successful careers."
With the Guaranteed Admission Program, students can be simultaneously admitted to both LU and CLC and may transfer to LU after meeting certain criteria, including specific coursework and a minimum number of transferable credit hours. Students who meet the requirements and receive admission into the program will also receive the Lincoln Connection Scholarship, which affords them in-state tuition.   
"College of Lake County is committed to ensuring access to high quality higher education that is affordable and culturally relevant. Through the Guaranteed Admission Program with Lincoln University, affordable paths to a bachelor's degree to support a student's ongoing academic achievement and personal growth are achieved," said CLC President Suddick, Ed.D. "We appreciate the collaborative partnership and commitment of Lincoln University to establish this transfer opportunity for CLC graduates." 
In addition to the presidents from both institutions, the signing ceremony included LU alumni, CLC students and CLC partners from Lake County.
College of Lake County is a comprehensive community college committed to equitable high-quality education, cultural enrichment and partnerships to advance the diverse communities it serves in northeastern Illinois. Offered at three campuses in Grayslake, Vernon Hills and Waukegan or online, college classes are affordable and accessible to help each student achieve academic, career and personal goals. More than 70,000 students graduated with degrees and certificates since the college opened in 1969. College of Lake County is the only higher-education institution ranked among the top 15 best places to work in Illinois by Forbes in 2019 and is a national leader in many areas, including campus internationalization, sustainability and conservation.
Lincoln University of Missouri is a historically Black, 1890 land-grant, public university that provides excellent educational opportunities to a diverse population within a nurturing, student-centered environment. Lincoln is known for its innovative undergraduate and graduate programs in agriculture, business administration, criminal justice, elementary education, nursing, business administration, guidance and counseling and natural science. Located in Jefferson City, Missouri, Lincoln University was founded in 1866 by the men of the 62nd and 65th United States Colored Infantries and their white officers for the benefit of freed African Americans. The university boasts an exciting residential life and a full slate of NCAA Division II athletics.
Press Release University News