Blue Tiger Bio: Capt. Marcus Holmes
Contact
Office of Communications and Marketing
Young Hall
820 Chestnut Street
Jefferson City, MO 65101

Archives
Categories
Social Media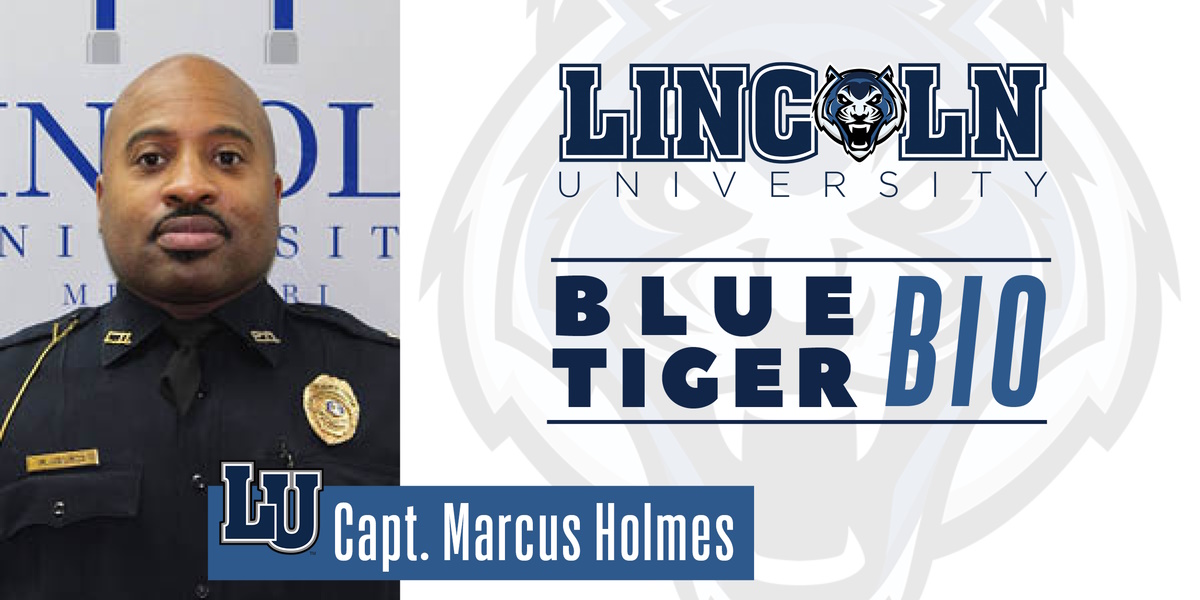 When Marcus Holmes returned to Lincoln University as a police captain in 2017, his career came full circle. It was a homecoming 20 years in the making.
"I started my law enforcement career at Lincoln University Public Safety in 1997 under Chief Karl Hubbard," Holmes says. He has since worked with several agencies throughout his career — Holts Summit Police Department, Cole County Sheriff's Office, Missouri Alcohol and Tobacco, Fulton Police Department, Missouri Department of Revenue and Missouri Department of Transportation — but in 2017 Holmes returned to his alma mater to serve as second in command to LU Police Chief Gary Hill.
A 2018 graduate of the Missouri Police Chiefs' Command College, Holmes wears many hats at LUPD in order to protect the public, maintain law and order on the campus, detect and prevent crime and control traffic. He supervises the day-to-day activities of campus police officers and evaluates performance, adjusting police and security operations and coverages where needed. He also assists with professional development and maintains the required training and certifications for campus police officers. As chief of security, Holmes supervises coordination and planning of security services for special events, oversees the department's Communication and Dispatch Center, and provides incident/accident reports when requested.
Pitching in wherever he's needed, Holmes also helps out when he can at Lincoln's Law Enforcement Training Academy, acquiring the necessary equipment for academy students.
He enjoys all the varied aspects of his work. "One of my favorite parts of the job would be the interactions that I have with the faculty, staff and students," he says. "And I like knowing that I have assisted an outstanding command staff in transforming our department into a valuable asset of the university."
The Chicago native — "born and raised on the South Side; White Sox, Bears, Blackhawks and Cubs fan" — is a Blue Tiger through and through. Holmes came to Jefferson City in the 1990s to attend Lincoln, earning a bachelor's degree here in criminal justice and corrections in 1996. In 2021, he added a master's degree in sociology and criminal justice, also from Lincoln.
The police captain and the university are a good fit. "Here at Lincoln, I'm a part of a department that has worked toward being a part of the solution, other than a part of the problem with all of the problems within law enforcement," he says.
Faculty/Staff University News