Lincoln University of Missouri Prepares for HBCU Week 2022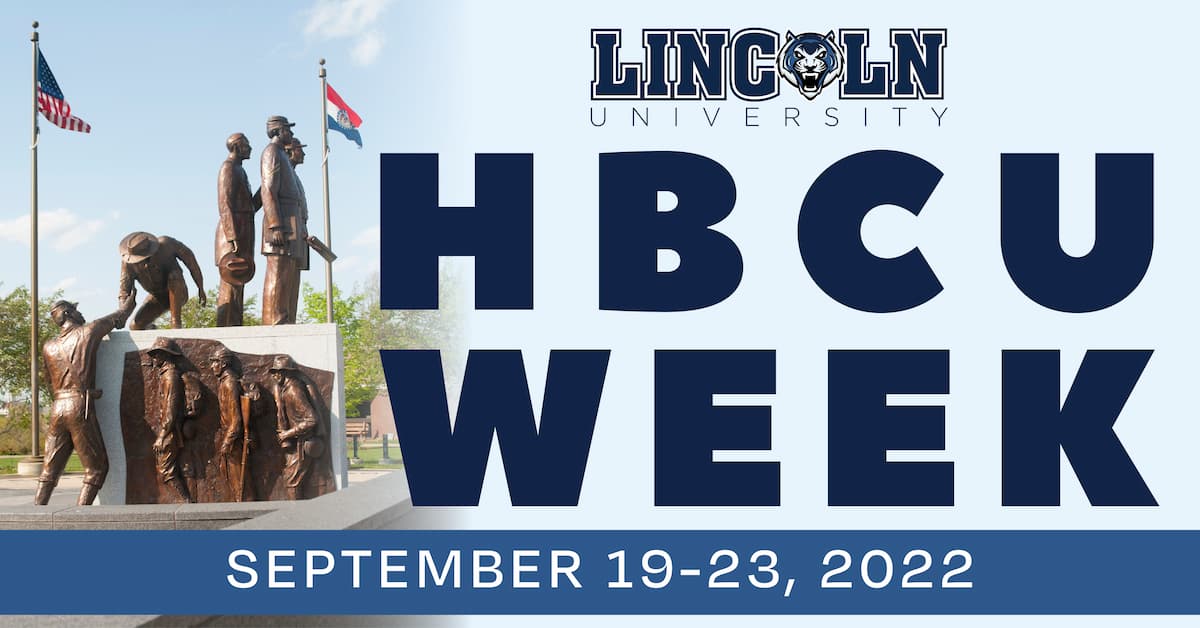 In June, Governor Mike Parson signed Senate Bill (SB) 718 into law, establishing the third week in September as Historically Black College and University (HBCU) Week in Missouri. Lincoln University of Missouri is preparing to mark the first-ever week-long celebration as one of Missouri's HBCUs. This inaugural event offers opportunities for students, faculty, staff, alumni and the community to celebrate and honor Lincoln's higher education role as an HBCU and its founders, the 62nd and 65th United States Colored Infantries.
HBCU Week 2022 will take place Sept. 17 – 23 with the theme "Advancing Educational Equity, Excellence, and Economic Opportunity through HBCUs."
HBCU Week 2022 activities kick-off on Saturday, Sept. 17 with the Lincoln Blue Tiger football home game against Fort Hays State. Attendees are invited to show their HBCU pride by wearing HBCU apparel supporting any HBCU school for free admission to the game.
See below for a look at HBCU Week 2022 events. To learn more, visit lincolnu.edu/events.
Saturday, September 17
LU Day at the home Blue Tigers football game – free admission for attendees in HBCU apparel that has a phrase supporting or endorsing any HBCU of their choice. The LU Blue Tigers take on Fort Hays State at 6 p.m. at Dwight T. Reed Stadium.
Monday, September 19
Celebrate LU, a digital archival display
"Activism at Lincoln" exhibit at Page Library (available for viewing all week)
Tuesday, September 20
LU Excellence, a student-focused social media takeover. Follow along on Instagram @lumo_ose.
Wednesday, September 21
6:30-8 p.m. – Community Discussion
Location: 214 Adams St, Jefferson City, MO 65101
Co-sponsored by Lincoln University and Missouri River Regional Library
Dr. Darius Watson, executive director of academic initiatives at Lincoln University, will moderate a discussion of Lincoln's relationship with Jefferson City and the central Missouri region while exploring the past, present, and future of the shared commitment by Lincoln University and its surrounding communities to cooperatively advance economic and educational opportunities for all.
Thursday, September 22
11 a.m.-noon – LU Faculty Roundtable
Location: 820 Chestnut Street, 300 Young Hall, Jefferson City, MO 65101
This faculty-focused discussion will include Dr. Amber Bell, assistant professor of Social Sciences; Dr. Toni Westbrooks, assistant professor for Special Education; Dr. Tumen Wuliji, associate professor of Animal Science; Dr. Mick Brewer, assistant professor of Communication Studies; and Dr. Jessica Epple-Farmer, assistant professor of Animal Science. This event is only open to the Lincoln University Faculty.
Friday, September 23
HBCU Pride Day – The LU community is asked to share "Why it's great to attend an HBCU" with photos and comments on social media. Follow along on Facebook @LUBlueTigers and Instagram @lubluetigers.
---