Lincoln University of Missouri Promotes Dr. Zakiya Brown to Vice President of Student Affairs and Enrollment Management
Lincoln University
|
July 1st, 2022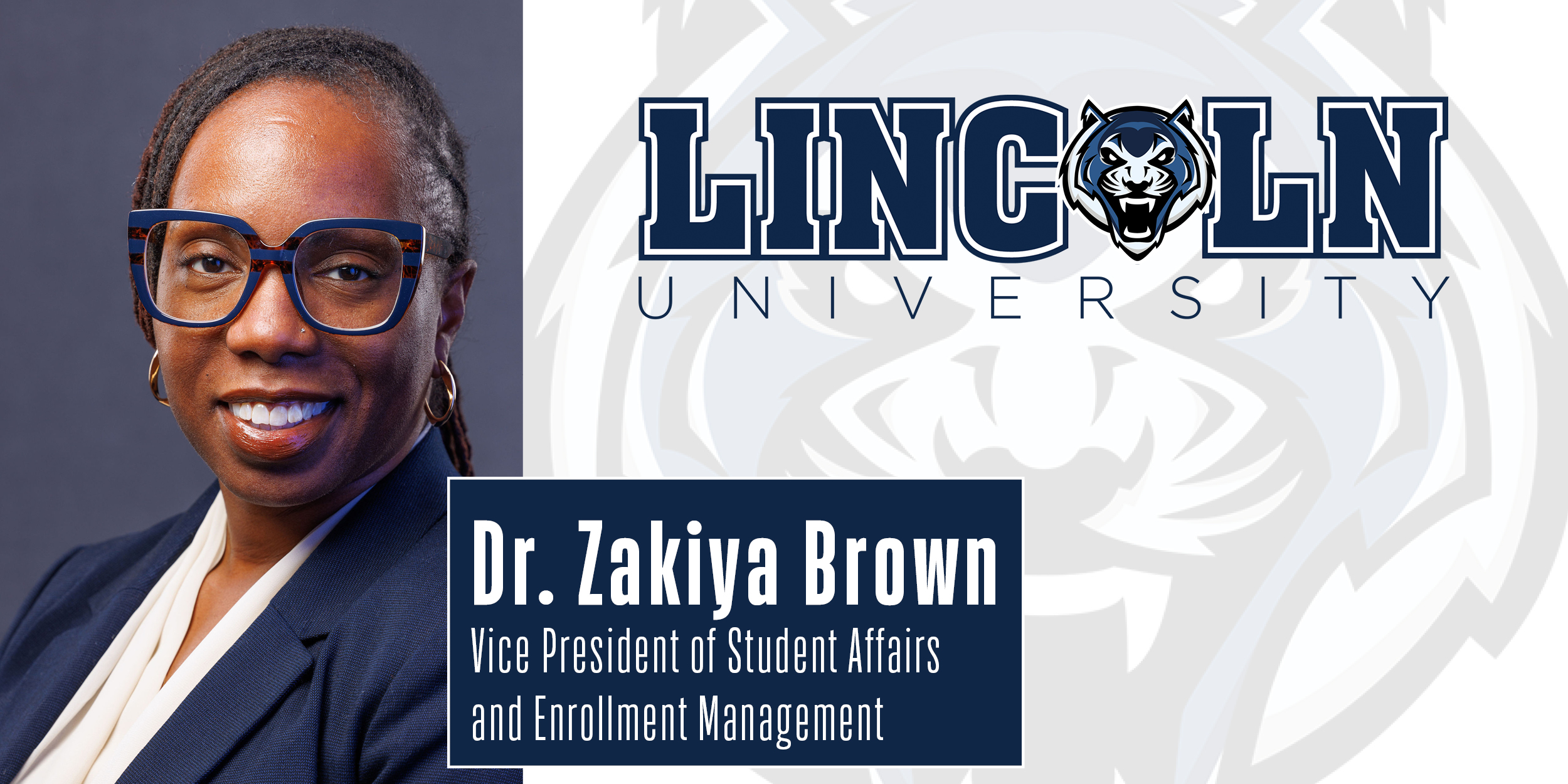 Lincoln University of Missouri announced today that Dr. Zakiya Brown has been promoted to vice president of student affairs and enrollment management. Brown joined Lincoln in 2019 as the Title IX coordinator and was promoted in June 2021 to dean of students, chief diversity officer, and Title IX coordinator. In her new vice president role, she will continue to fulfill the responsibilities of chief diversity officer and Title IX coordinator.

Brown holds nearly 20 years of experience serving higher education and student affairs at both historically Black institutions (HBCUs) and predominantly White institutions (PWIs). Her higher education career includes various roles held in student housing and residential life, new student orientation, First-Year (FYE) and Second-Year experience (SYE), student conduct, diversity and inclusion, and Title IX.

"Dr. Brown has proven and continues to prove her value to Lincoln University students," said Lincoln University President John B. Moseley, Ed. D. "Her work on the local, regional and national levels to develop and support a holistic student experience framework centered on individuality, belonging, and cultural identity positively impacts our students and helps position Lincoln as a leader among other HBCUs and universities across the country."

"I am grateful and excited to continue to serve our students in this capacity," said Dr. Brown about her new appointment. "My vision is for our students to continue showing up in this world, introducing how powerful and dynamic they are. We have some of the best students I have ever had the privilege of meeting, and we are committed to supporting their success."

Brown says her goals, in keeping with Lincoln's strategic plan adopted in June 2022, are to increase enrollment and remove barriers to support student persistence.

"We will develop even more opportunities for Lincoln students to succeed -- that will prepare them for the lives they have been created for," Brown said.

Among her accomplishments so far at Lincoln, she successfully received two grant awards from the American Public Health Association (APHA) to address campus sexual violence. During the 2021-22 academic year, Brown's work to incorporate restorative justice practices on campus resulted in a 70% decrease in student conduct recidivism. She has also established a relationship with NORC, a research-intensive program through the University of Chicago, to develop campus climate assessments specific to historically Black institutions.

Brown serves and has served on several national and local professional and non-profit associations. Nationally, she is an advisory board member for the Association for Title IX Administrators (ATIXA). Locally, she is the vice-chair for the Rape and Abuse Crisis Service and secretary for the Missouri Diversity Officers in Higher Education (MODOHE). She is a graduate of the 2017 Epsilon Cohort of the Higher Education Leadership Foundation (HELF), the 2016 ACPA Aspiring Senior Student Affairs Officer (ASSAO) Institute and is currently a 2022 Community Fellow of the HBCU Executive Leadership Institute (ELI) hosted by Clark Atlanta University. She has presented at the National Association of Student Personnel Administrators (NASPA) Women in Student Affairs Conference, plus the NASPA regional conference, annual conference, and Region III Educational Series.

A Cleveland, OH native, Dr. Brown received a Bachelor of Arts in Economics from Central State University, a master's in educational leadership from Concordia University -- Portland, and a doctorate in higher education administration from Northcentral University. Her research resides in two areas -- Title IX at HBCUs, specifically the impact racial loyalty has on reporting campus sexual violence and the layered identity development of student diversity at HBCUs.