Lincoln University Police Academy Certifies 24 St. Louis Deputies
Lincoln University
|
May 25th, 2022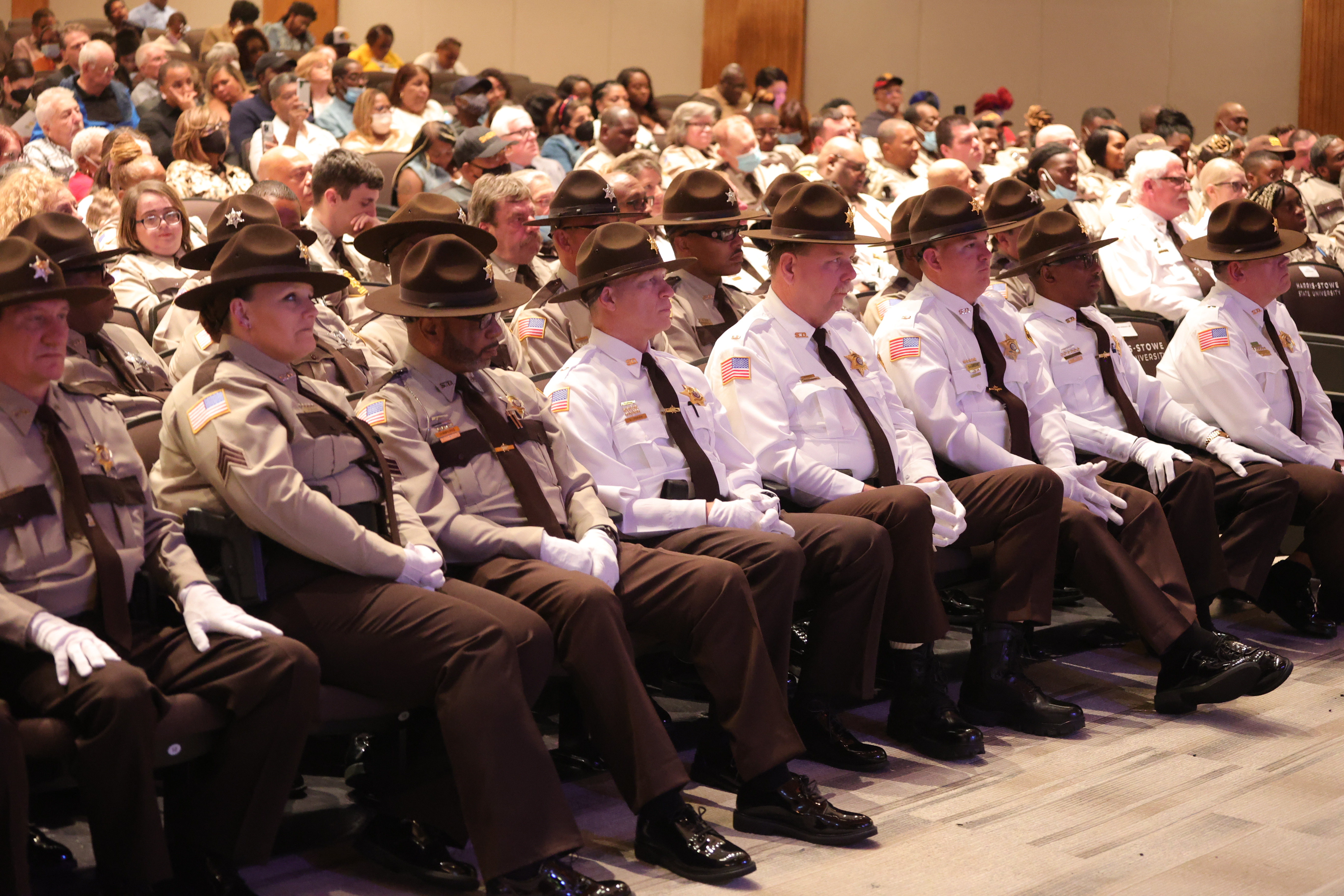 Two dozen officers of the St. Louis Sheriff's Office made history when they became the first in their department to achieve Peace Officer Standards Training certification from Lincoln University of Missouri on May 24. POST certification -- which allows deputies to better assist the St. Louis Metropolitan Police Department with arrests, traffic stops, searches and other tasks -- was included in the curriculum of the Lincoln University Law Enforcement Training Academy (LULETA) the officers attended at Harris-Stowe State University in St. Louis.
Please see our Flickr page for more photos.
The newly certified officers graduated as the third LULETA class during a commencement ceremony at Harris-Stowe on May 24. The graduates included:
Sheriff Vernon Betts
Lt. James Borisch
Lt. Anthony Evans
Lt. Michael Gamache
Lt. Timothy Haill
Sgt. Donald Hawkins
Sgt. Scott Horan
Sgt. Alexandra Koenig
Sgt. Kevin Meyer
Sgt. Whitney Windom
Deputy Stephen Berra
Deputy James Bond
Deputy Dennis Boyd
Deputy Gregory Christian
Deputy Jeremy Ervin
Deputy Kim Griffin
Deputy Brandon Helm
Deputy Wayne Honer
Deputy Ronald Jones
Deputy Curtis Mayes
Deputy Robert Payne
Deputy David Quigley
Deputy Barbara Ringo
Deputy Norbert Thompson
"This extensive training was the first time in the history of the sheriff's department  -- since its creation in 1876 -- wherein the department deputies received POST certification," said Col. Steven Roberts Sr., chief of staff for the St. Louis Sheriff's Office. "This is the beginning of a long-term relationship with the Lincoln academy, Lincoln University, Harris-Stowe State University, the Missouri Department of Public Safety and the City of St. Louis Sheriff's Office."
Roberts added that Sheriff Vernon Betts plans for his entire staff of 180 deputies to eventually become POST certified through LULETA. Lincoln, Harris-Stowe and the sheriff's office cemented the plan by executing a memorandum of understanding with Missouri Gov. Michael Parson prior to the LULETA commencement.
Lincoln is the first and only historically Black college and university (HBCU) to house its own police academy. Launched in 2021, LULETA has received national recognition and praise for its focus on recruiting and training officers of minority descent. The St. Louis sheriff's deputies comprised the first LULETA class to receive training off-site from the Lincoln campus in Jefferson City.