Blue Tiger Bio: Aaron Spencer
Lincoln University
|
August 5th, 2021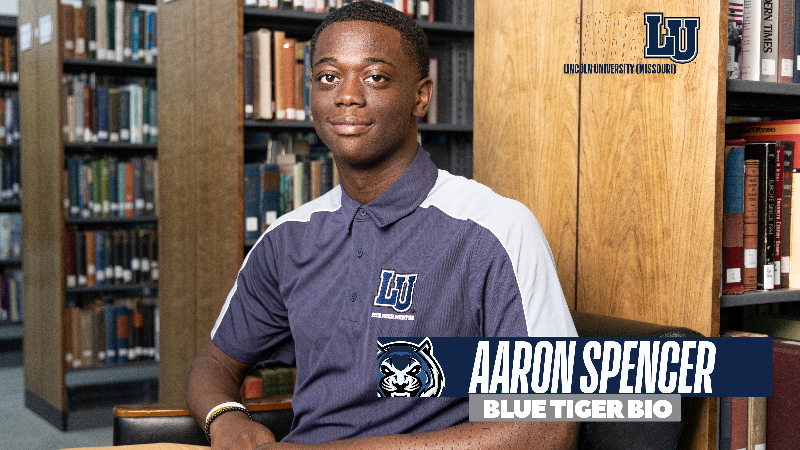 Senior Aaron Spencer and his camera have become a fixture at Lincoln University, as the journalism major can often be found taking pictures of campus life, concerts and sporting events. 

"I've done a lot of things with our Royal Court and CAB (Campus Activity Board) events," Spencer said. "My most favorite memory here is when we had Meg Thee Stallion and Li'l Boosie for a [concert]. I got to be on stage and take pictures of them. I've also done a lot of sports and other different events that go on around here."

Photography is just one more form of self-expression for Spencer, who has been involved n the arts for as long as he can remember. 

"In school, I was, you know, a band nerd. I did jazz band, marching band" and symphonic band. Also did theatre, and my senior year I was part of the [student] newspaper," Spencer said. 

Working on the school paper at Grandview High in Kansas City, Missouri, helped awaken Spencer's passion for photography and journalism. Spencer began taking pictures at various school sporting events, as well as other student activities, and started to develop a passion for the art form. Being at Lincoln has only helped grow that enthusiasm.

"Really, it was coming here to Lincoln that made me really interested in photography," Spencer said. "In high school, I did a radio show called Generation Rap, so my whole thing was, I thought I would do radio or TV. But I took a photojournalism class, and as I started taking pictures for that class, more and more the professor kept saying how she liked the work I did and that I should take it more seriously. That's when I went out and bought my first camera."

Since taking that first class with adjunct instructor Leslie Cross, Spencer has regularly looked for opportunities to take photos around campus. Whether it be Homecoming events, gospel choir performances or a football game or track meet, Spencer has been active in continuing to gain experience and hone his prodigious skills.
"When I see events going on, even if they don't want me to, I'll bring my camera along and get some pictures taken," Spencer says with a laugh. 
All that experience is leading to bigger and better things for Spencer, as he is already starting to plan his career after graduation.
"I want to hopefully one day open up my own production company,"Spencer said. "Whether it be pictures or film, whenever people need help with that, they'll be able to call me and say, 'Hey, we've got this project going on, can you help with pictures or filming?' It wouldn't necessarily be just me doing it. I want to have a whole company [of people] to send out to help. That's my goal."
The professors at Lincoln have been strong supporters of Spencer's work, and their encouragement has given him the confidence to believe he can turn that goal into a reality. 
"Every time I would do a project, (Ms. Cross) would tell me she liked the pictures I chose and kept telling me this is something I can do, so I took her word for that," Spencer said. "Mr. [Will] Sites is another one, because whenever I do take photos of the sports teams, he's one of the first persons I go and show and ask, 'Is this a good picture? Is this good?"! 
"A lot of our stuff in journalism is really hands on, so they're preparing us for the real world," Spencer continued. "Like how to handle different situations, how to get a job. I feel like the professors at Lincoln really are preparing us for the real world."

While Spencer is truly enjoying his experience as a Blue Tiger, there is one activity that the former percussionist has missed.
"The drumline here at Lincoln they're good, real good,"Spencer says with a laugh. "I actually wanted to do it but the scheduling didn't end up working out the best. I do miss it. I say that every time I hear our band!"

Dan Carr
Photo by: Keena Lynch