Lincoln University of Missouri Awarded $75K for New Innovation Lounge from Home Depot Retool Your School Program
Contact
Office of Communications and Marketing
Young Hall
820 Chestnut Street
Jefferson City, MO 65101

Archives
Categories
Social Media
Stephanie Cobian
|
May 5th, 2023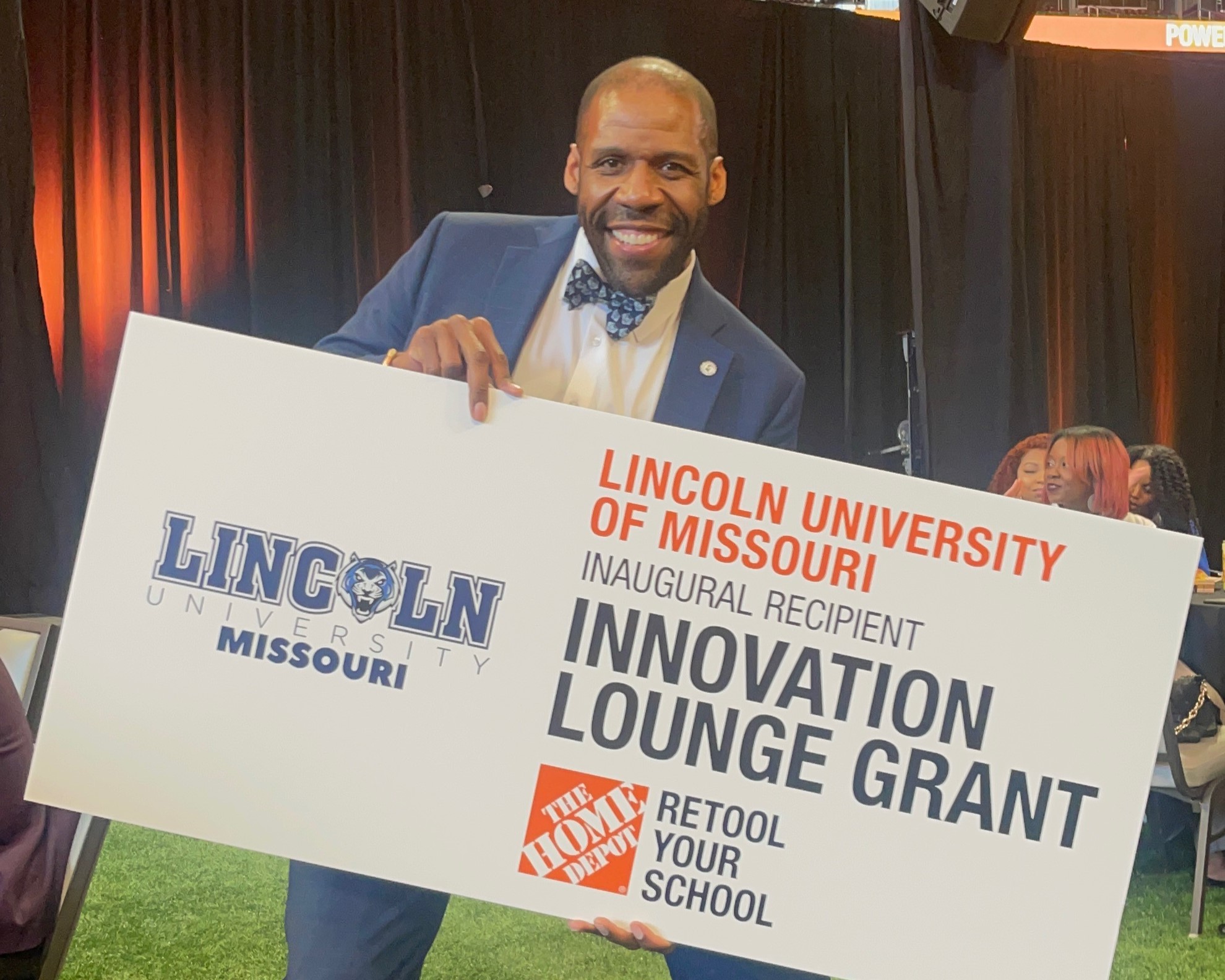 Lincoln University of Missouri (LU) was named as one of ten recipients of Home Depot's 2023 Innovation Lounge Grant at the Retool Your School Award Celebration held at the Mercedes-Benz Stadium in Atlanta, Georgia, on Tuesday, April 11. LU will receive $75,000 in grant funds to transform a space on campus into an Innovation Lounge for future innovators, entrepreneurs and creators.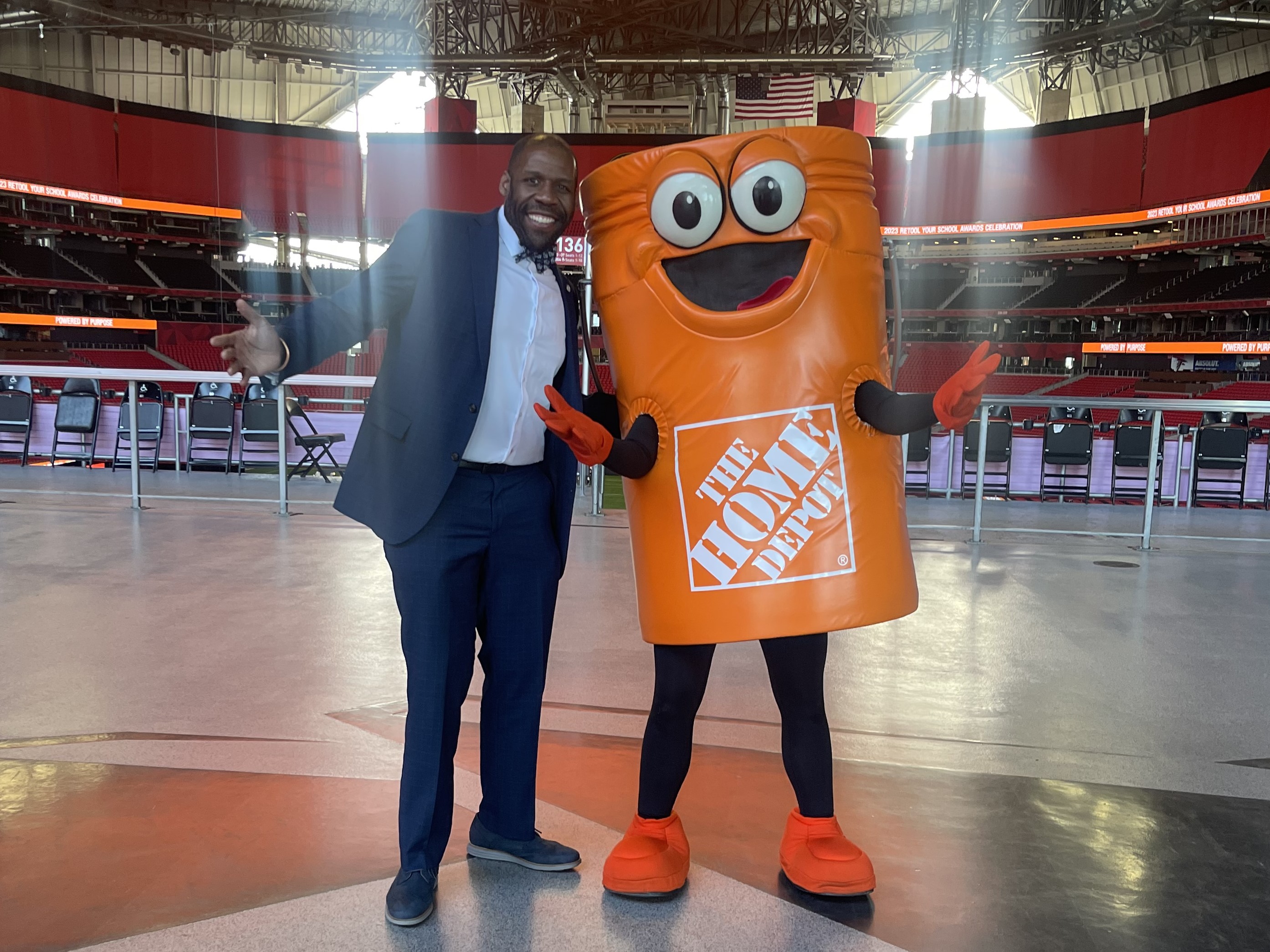 "Innovation in education is about empowering students to become life-long learners who will be agents of change," stated Lincoln University President John Moseley. "With the new Innovation Lounge, LU students will have the opportunity to unleash their entrepreneurial spirit and take their knowledge of business and personal development to new heights. As they come together to explore new ideas, they will unlock fresh perspectives and innovative approaches to problem-solving, impacting their schools, places of work, communities and beyond."
Grant funds will convert the former print shop of Schweich Hall into the new Innovation Lounge where students can congregate, collaborate and ideate. Centrally located on campus and adjacent to the quad area that houses several halls where students attend and congregate between classes makes the new Innovation Lounge easily accessible to all students. With a mix of public and private spaces, the space will offer dedicated study and learning areas and meeting rooms that will encourage gathering and spontaneous collaboration where everyone from a distinct set of knowledge, skills and viewpoints come together to ideate and create solutions.
Not only will the new Innovation Lounge provide students with a space to study, meet, and collaborate, but it will also offer workshops through the LU Small Business Development Center that focus on business planning, finance, management, and marketing. Additionally, the Lounge will function as a hub for student mentorship as they develop their own businesses and will host events for personal development.
Providing an Innovation Lounge will make a positive impact on the students, increasing student engagement, knowledge and skills. The lounge will foster a collaborative culture among students that promotes innovative thinking.
Molly Battin, senior vice president and chief marketing officer of The Home Depot, stated that the company's commitment to HBCUs goes beyond financial support. "We recognize that HBCUs are fundamental to academic success and professional development in both the communities they serve and our nation as a whole. We're committed to preserving that incredible history and seeing that it continues to grow."
The Home Depot's Retool Your School program has been a critical initiative for Historically Black Colleges and Universities (HBCUs) since its inception 14 years ago. This year, 36 HBCUs were awarded more than $2 million in grants to enhance their college campuses. In an effort to meet the evolving needs of HBCUs, The Home Depot has expanded the 2023 Retool Your School program to include an additional $2 million in needs-based grants. These grants will support essential programs such as innovation lounge renovations, internship and externship programs, scholarships and more, empowering HBCUs to pursue their unique visions of progress.
The Retool Your School program's grants provide much-needed resources to HBCUs, allowing them to invest in their facilities and create an environment conducive to academic success. The Retool Your School grant program by The Home Depot aims to give back to the Historically Black Colleges and Universities (HBCUs) that have contributed so much to their communities by providing funding for campus uplift and beautification. Established in 2009, Retool Your School has invested over $9.25 million to support 227 campus improvement grants for 71 percent of the nation's HBCUs. To learn more about Retool Your School and its impact, visit
RetoolYourSchool.com
.
Press Release University News