Inman E. Page Library History
Quick History
In January 1997, Lincoln University reached another milestone as the much anticipated new library opened its doors. The Jefferson City community joined forces with Lincoln University alumni, faculty and staff to raise $443,000 in cash and pledges toward the completion of the approximately $11 million dollar structure. The 80,000 square feet, state-of-the-art library, referred to as an 'information mall' is four times larger than the old facility.
Library Overview
Inman E. Page Library serves as the primary educational resource center of Lincoln University, supporting the curricula and research needs of the institution through the development of pertinent library collections and the provision of services designed to facilitate access to information. The facility has a seating capacity of approximately 450, contains over 204,948 volumes, and has 358 paper periodical titles and 190 serial microform titles. The library has been designed to accommodate computers, fiber optics, and Internet access. Ten private and 12 group study rooms are available for student, faculty and staff use. Two bibliographic instruction rooms, each with a seating capacity of 20, are available for faculty, staff, student and community use. Currently, the library houses the Blue Tiger Computer Lab to allow students access to computers during library business hours. Fourteen library staff members are available to assist students use the library during the 92 hours it is open.
Equipment has been added to comply with the Americans with Disabilities Act (ADA) requirements. (Almost all the functions of the Library are fully automated with Innovative Interfaces, Inc., Millennium online catalog.) The system is also accessible from any personal computer with Internet access. In addition, an interlibrary loan service is available, in the event that a source is not available at Page Library. Page Library is a member of the MOBIUS Consortium which links the libraries of 55 colleges and universities in the state of Missouri. The library also has a partial membership with two major public libraries. MOBIUS is a common library platform, which creates a virtual collection of approximately 15 million items and gives members access to direct borrowing between member institutions. Requested items will be delivered within 48 hours.
Page Library is a member of the American Library Association and a full member of Online Computer Library Center (OCLC), which provides access to approximately 60 million bibliographic records. Page Library is also a member of Historically Black Library Alliance and the 1890 Library Directors Organization. In addition, the Library subscribes to FirstSearch and other major databases and serves as a partial depository of materials published by the United States Government. With the implementation of a proxy server, students, faculty and staff now have remote access to all electronic resources.
Inman E. Page
Inman E. Page was the first individual named "president" at Lincoln University of Missouri. (1880 - 1898 & 1922 - 1923) He was born a slave, bought his and his family's freedom, graduated from Brown University, Rhode Island and was nominated there as Class Orator.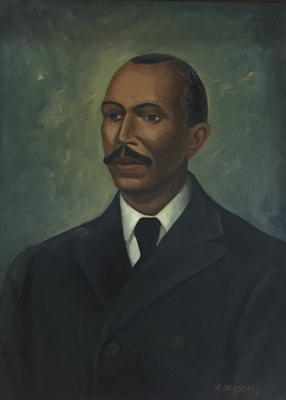 During his tenure he brought in many new instructors, built several campus buildings, was president of the Negro Teacher's Association, worked with the state government for meaningful funding of the institute and was popular with the press because he was well spoken. In 1889, the Board tried to oust him, to put in a new person, but the move was so highly controversial that the candidate withdrew from the process. While Inman was president, in 1891, Lincoln University became a Land-Grant Institution under the Morrill Land-Grant Fund and the first Memorial Hall was built. He also began instituting college-level courses, which faced some serious opposition, but inevitably led to Lincoln Institute becoming Lincoln University.