MANRRS News

MANRRS

Minorities in Agriculture, Natural Resources & Related Sciences (MANRRS)
"Changing the Face of Agriculture by Linking Hands Around the World."
News and Events
From the Desk of Julius Moody...
On behalf of LU MANRRS, St. Louis, MO Jr. MANRRS and myself, we thank you for your support.
March 26 – 29, 2015, the Lincoln University (LU) Liaison and the LU MANRRS students traveled to Houston, TX to attend and participate in several student workshops and academic – based competitions.
Outcome/impact: The students received their 4th consecutive 1st place Regional Chapter of the Year Award (COYA). The LU MANRRS students received an overall 3rd place National COYA. Only 3 – 5 points separated the top (3) winners:
1st:  University of Kentucky
2nd: Oregon State University:
3rd:  Lincoln University of Jefferson City, MO.

The 2015 competition was our first national MANRRS opportunity to compete as a national finalist. The competition has provided the LU MANRRS tools to evolve into a more competitive team for 2016. LU MANRRS will host the MANRRS Regional conference in Jefferson City, MO. Tentative dates October  23 - 24, 2015.
 
The Lincoln University (LU) MANRRS Liaison and students were awarded their 3rd consecutive Regional Chapter of Year Award. MANRRS Regional and National Chapter of the Year selections are based on many aspects including: increasing chapter membership, leadership development, community service, promotion of the National Society, fundraising and financial management, and the creativity, organization and clarity of an annual report.
Outcome/impact: The Liaison competed as a judge for the 2014 MANRRS National Research Poster Competition. The LU MANRRS students were offered 3 internships, 1 offer for graduate school studies, along with 3 individual and group awards. The MANRRS conference greatly contribute to the diversity of the workforce of agriculture.  The competition was held in Birmingham, AL on March 28, 2014.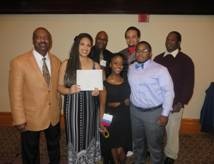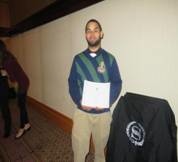 MANRRS Regional Participants: (front row left to right) Julius Moody, Ayriana Taylor, Vida Webb, Jacob Rowell. (back row left to right) Michael Collins, Edward Robinson, Cornell Bailey. Pictured right: Marques Gulley.
Receiving the award is a great honor and quite significant considering other eligible schools in Region 4 include Kansas State University, Langston University, Louisiana State University, Prairie View A&M University, Sam Houston State University, Southern University and A&M College, Texas A&M, Texas A&M University – Kingsville, and the University of Missouri.
MANRRS News and Upcoming Events
Your input is valuable to us. Please send us your suggestions.

Julius Moody
USDA 1890 Program 1 Liason
MANRRS Advisor
108 Bennett Hall
Jefferson City, Missouri 65102
Phone: (573) 681-5108
Email: MoodyJ@LincolnU.edu